Top 100 Jobs in the Netherlands – a surprising result?
Finding one's dream job can be tough and unfortunately, it is not as easy as you have probably imagined it as a child. While we all dreamt of becoming a firefighter, a ballerina or maybe a vet, in the end most of the working people are doing something totally different than they would have imagined as a child. Therefore, it is unsurprising that the list of the Top 100 Jobs among young professionals and students in the Netherlands does not include professional football players, astronauts or pilots, but rather consultants, business analysts and project managers.
When looking at the Top 100 list it becomes obvious that there are three sectors that are overly present in the list, namely fast-moving consumer goods (16 jobs), management consulting (14 jobs), and logistics (10 jobs). Another winner this year were jobs with the government which were able of scoring a doubling of being mentioned in the Top 100 list.
Relating to that, it is also interesting, especially in the light of corona, to look at the differences between 2019 and 2020. Here, when looking at the graph below, it becomes visible that besides the government sector, also the logistics sector could secure itself more than a doubling of being mentioned on the list. So, these sectors seem to be the winners of 2020 – but of course: where there are winners, there are also losers. Especially the IT sector, but also retail and finance had to lose jobs in the Top 100 List in 2020. The founder of Magnet.Me Vincent Karremans explained this change with what he calls the "Corona-effect". According to him, the increase in the government sector can be explained by a strong government which, in times of crisis, also is a symbol of being a reliant employer.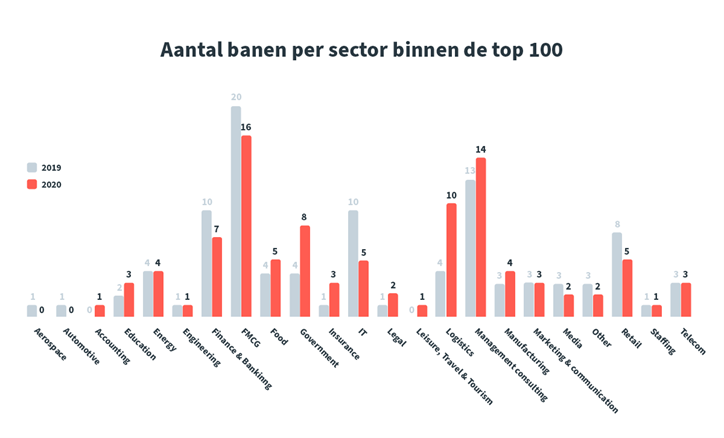 Traineeships – all you have to know
Although the number of traineeships in the Top100 in 2020 decreased a little compared to 2019, they are still extremely popular. This year 57 out of the 100 jobs mentioned in the list were traineeships – but what exactly is a traineeship, and what is the difference compared to an internship?
For an internship, you normally work for a company for a fixed period of 2-6 months and complete tasks previously agreed on for which you receive internship compensation, which is usually not too high. Internships are often undertaken during (university) studies and when the internship period passed, students normally return to their studies. There are also graduate internships where the intern is hired after the completion of the internship, but that is an exception and not the rule. In a traineeship, on the other hand, the trainee is considered a normal employee and gets paid a normal salary (which is much higher than internship compensation). Furthermore, trainees are supposed to stay with the company after the traineeship is done and generally, they get more responsibility within the company.
Summarizing it can be said that a traineeship is, as the name suggests it already, a training programme that prepares you to work in a certain job in a company. Normally, a traineeship is completed within 1-2 years during which the trainee gets to know different departments of the company and gets prepped for their future job within the company. In general, there are a lot of different types of traineeships on the market. The most common ones are in management, marketing and consultancy, but also areas such as finance and IT are offering more and more traineeships for future employees.
All in all, traineeships sound like a promising thing to do after graduation, but also not all that glitters is gold – there are also some disadvantages of traineeships: As a trainee, you are expected to work flexible hours and to have developed a lot of social skills already at the beginning of your career. Moreover, employers expect you to stay with the company after the completion of the traineeship. However, on the other side, there are also many advantages of doing a traineeship as it allows you to get to know the company and to get insights into your future job through a supervisor in the company. Additionally, a traineeship helps you to understand where your professional strengths are, and another bonus is that you get to network quite early in your career.
Thus, traineeships are a fantastic option for graduates of many study programmes as it allows you to enhance your skills and get to know the working world.[1]
What were the most popular jobs in the Netherlands 2020?
Below you can see the Top 10 popular jobs in the Netherlands and also here, most of them are traineeships for graduate students. If you want to know more about the Top 100 jobs in the Netherlands, make sure to have a look at the list provided by Magnet.Me! Of course, it is sad that none of our childhood dream jobs are on this list, but the choices at hand as a child are limited – or what would you say if a child comes up to you and says: "When I am big, I want to be a consultant"?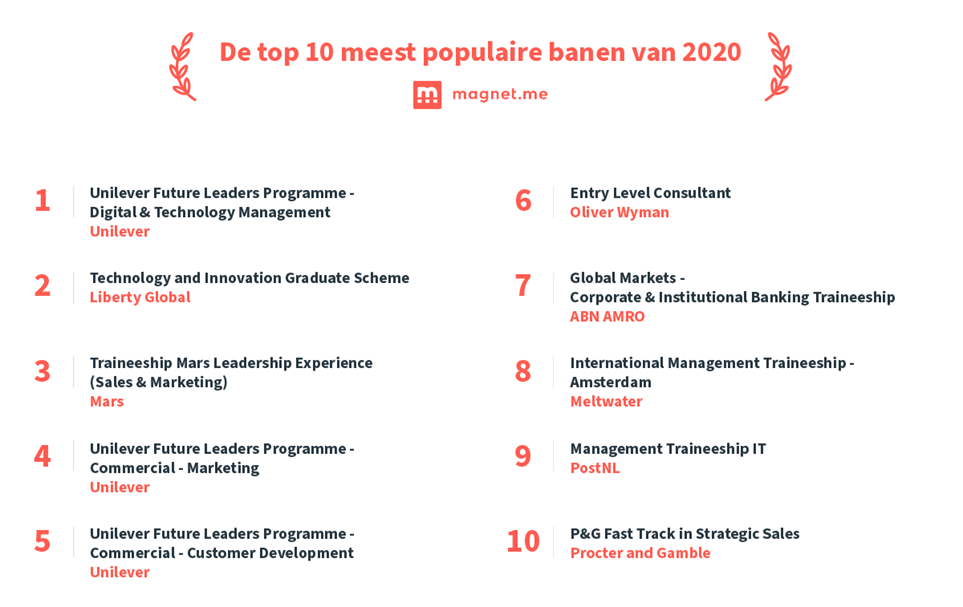 ---
Sources:
[1] https://magnet.me/guide/en/what-is-a-traineeship