Reconnect 050: For Students, By Students
 After 2 years of living with restrictions due to COVID, it seemed like the whole world woke up on a Saturday morning and decided that this dreadful pandemic is over, and it was time to catch up. Ever since, Groningen has been flooded with events, concerts, and festivals. Obviously that's a good thing, but after two years of hiding inside bunker-style or living it up at house parties, it can be a bit hard for most of us to get out of our homes and trusted spaces. Luckily we're not alone in that though. Students from the Arts, Culture and Media Bachelor's program thought so too. For their Bachelor's final project they were tasked with organizing an event. They decided that they wanted came up with a concept to help all students reconnect after the pandemic, and that's how the Reconnect Festival began.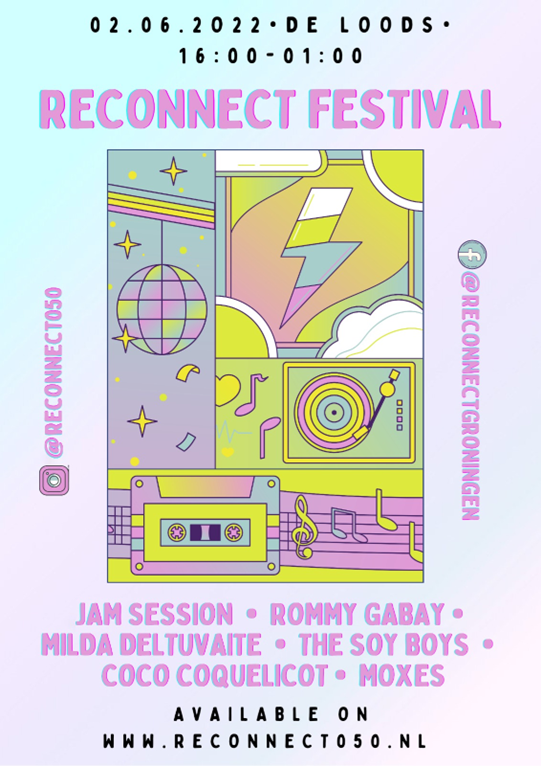 To find out more about this event, I had a lovely talk with one of the members in the promotion team of the event: Octavia. I wanted to know more about Reconnect. How did they come up with the idea in the first place, for example? She told me the inspiration came from the thought that, after 2 years of isolation, people needed a stage where they can have fun in all the ways that they wanted to, without being judged. And that makes sense. For those of us who are still not fully accustomed to having everything be open and busy, it can be a great transitional experience to have a festival with the benefits of good music and good people, while still being relatively mellow and down to earth. According to Octavia, that's why Reconnect focuses on being a free space where art-loving students can communicate openly; it's an event organized by students, for students.
The team thought of everything and, as you might expect, they are very detail oriented. They even came up with a narrative backstory for this event: the festival is a house party, thrown by a home-alone student who invites all his friends (that would be all of us) to celebrate opening up after the pandemic. To emphasize this backstory, they built an unconventional stage which resembles a living room. Think sofas, lamps, plants and everything cozy, to really get into that house party feel.
   If some of the music is not really your thing and you'd prefer to wait for the next act, the organizers have got you covered: they've prepared a chill area designed as a recreational room where you have documentaries, games, hammocks, blankets and playlists to satisfy even your weirdest music taste. And if you get bored of too much "chill" (unlikely, but still possible), the students have prepared some easter eggs to liven up the experience, and to add to the narrative of the backstory, so prepare to be immersed.
     The event will take place at De Loods and will start at 16:00, ending at 01:00 the next day, with the little bonus note that depending on the vibe at the end of the festival, there might be an afterparty, so bring your A game. The event starts with a jam session, where anyone in the audience can come with an instrument (or not) and go on stage to perform. Anyone who buys a ticket can do this, but if you sign up beforehand it'll make the organization process a bit easier for our friends at Reconnect. Plus, signing up for the jam sesh makes your ticket free! Octavia tells me the jam session has the purpose of making the audience feel like home and giving them a "family feeling". To add to this feeling, there will be moments where artists will ask people from the audience to join them on stage, so you can leave those inhibitions at home. Or kill them with a drink or two.
     After the jam session, there is a line up that brings multiple genres of music together such as jazz, hip-hop and dance. Make sure you don't miss The Soy Boys, a band that's apparently very excited to play at the festival, as it will be their first live performance in 833 days. Towards the end, a DJ will hype the crowd up to wrap the festival and make everyone dance like there is no tomorrow. The goal of this festival is to help students evade stereotypes and to follow their creative pursuits. A lot of arts and culture oriented people give up on their dreams because they think it is not possible or feasible to make it in the industry. That is why organizers have also invited talent agents, music teachers and bands that you can bond with and start a conversation about your future artistic career.
If Reconnect sounds like something you'd love, here are some links:
Website link: Reconnect050
Tickets: https://fienta.com/nl/reconnect-1