She read her Grandfather`s Letter During the Protest: Anatoliy`s Letter from Kyiv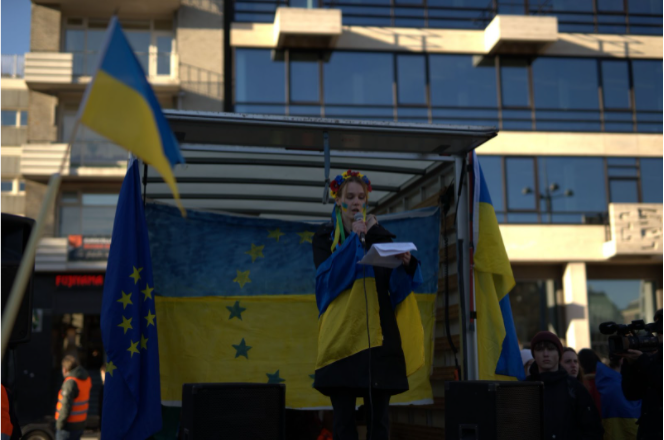 On February 27th, the international community of Groningen came together to show solidarity with the people of Ukraine. According to the organisers, an estimated 3000 people joined the protest, with many more joining other protests in and outside of the Netherlands. The majority of the speakers were local students from Ukraine. Maria was one of them, and one of the last to speak. She did not speak about her own experience but shared letters written by her friends and relatives, most notably including a letter written by her grandfather who is stuck in Kyiv and who wrote it specifically for her to read at the protest. Maria gave us permission to publish the letter here.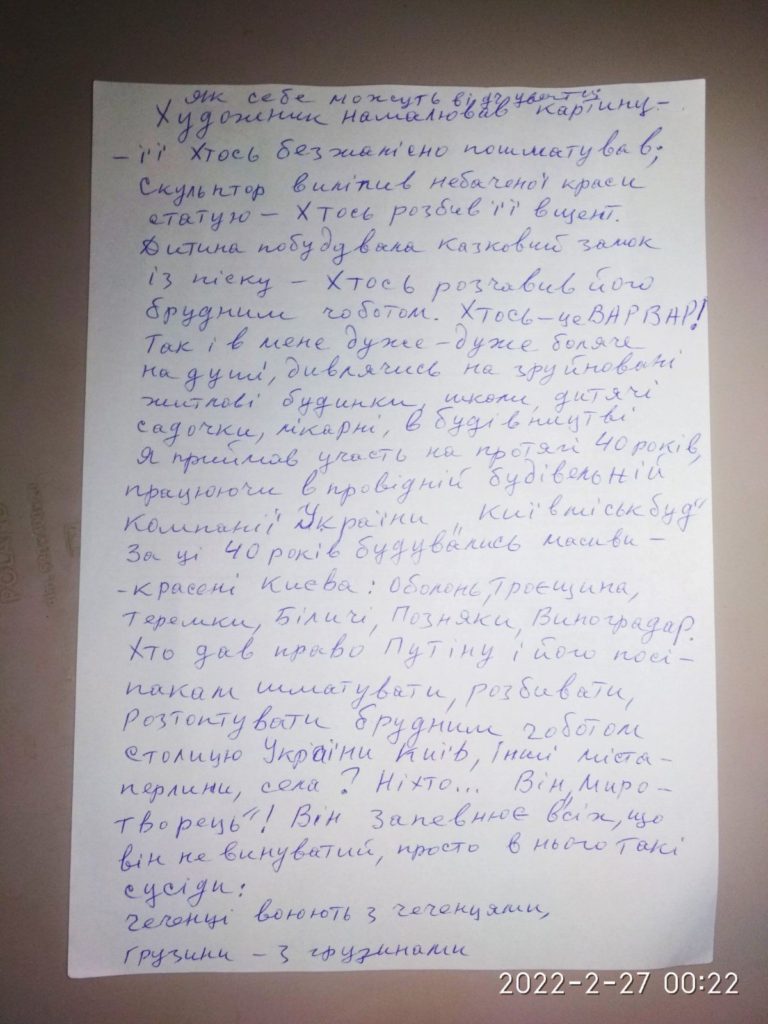 An artist painted a picture – ruthlessly shredded to bits. A sculptor created a statue of unbelievable beauty – smashed to pieces. A child built a dreamlike sandcastle – someone crushed it with a dirty boot. That someone is a barbarian. I am very hurt at heart, it's painful looking at destroyed residential buildings, schools, kindergartens and hospitals, which I have spent 40 years of my life building. In those 40 years, the beauties of Kyiv were built. Obolon, Troyeshyna, Teremky, Bilychi, Poznyaky, Vynogradar.
Who gave Putin and his followers the right to shred, smash and crush with a dirty boot the capital, other pearl cities, villages? No one. He is a 'peace-maker'! He assures everyone that he is not guilty, he just has such neighbours: Chechens are fighting with Chechens, Georgians with Georgians, Moldovans with Moldovans, Belarussians with Belarusians, Ukrainians are fighting with Ukrainians. This practice needs to actually be adapted by the Russians themselves in the fight against Putin, only then there will be peace in Europe. There is a Putin-Russian expression – nravitsya ne nravitsya, terpi moya krasavitsa (whether you like it or not, endure it my beauty). A good response to that is another Russian expression that Putin doesn't seem to have learned in school: Nasil'no mil ne budesh (You can't be liked forcibly).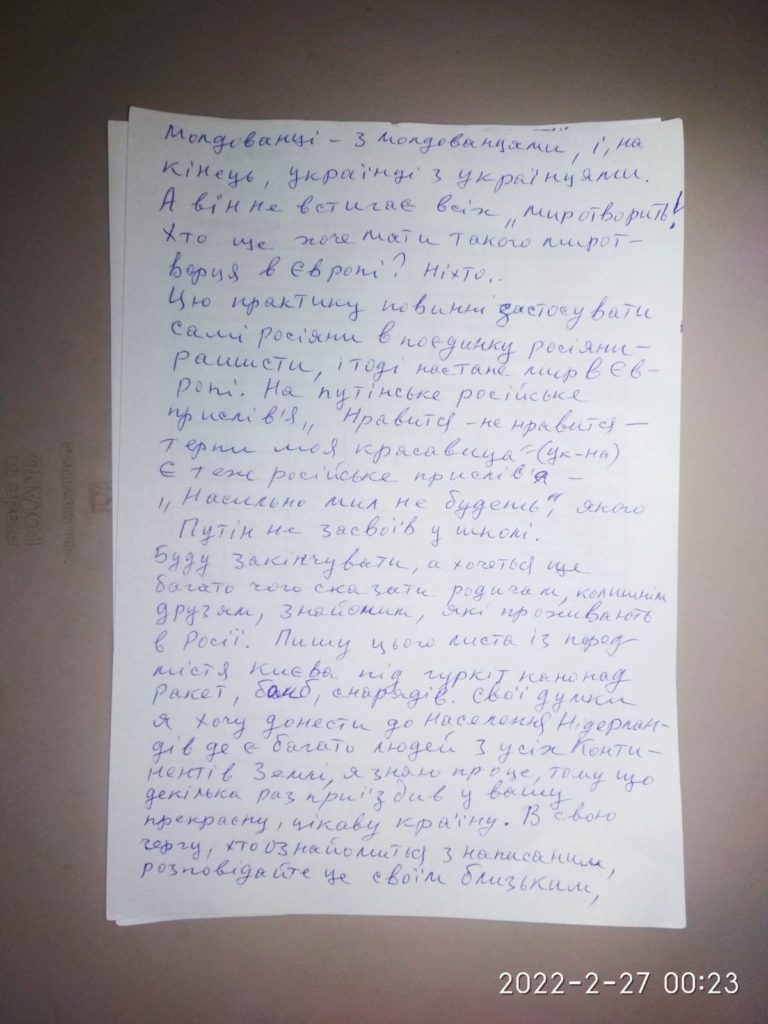 There is a lot I would like to say to relatives, past friends, acquaintances that live in Russia. I am writing this letter from the suburbs of Kyiv to the roar of missile fire, shells, bombs. I want to convey my thoughts to the population of the Netherlands, a beautiful and interesting country I have visited multiple times and have seen people from all corners of the world there. Those of you that hear me, spread my message further, to anyone that will listen. Tell them about what war really is, then this horrible word can be erased from our lexicon forever. Your descendants will only find its meaning in the dictionaries of the past. I ask for this letter to be read to you by my granddaughter Maria. Yes, you are looking at a live fascist. This slender, young beauty standing before you according to the words of Putin is a horrible Nazi, who must be killed. Shame.
I have written what I have to say, and you heard me. It is easier on the soul from that. You shared my pain. Thank you for that. Glory to all the peaceful people. Glory to Ukraine.
Sincerely,
Your Nazi Anatoliy
February 27th 2022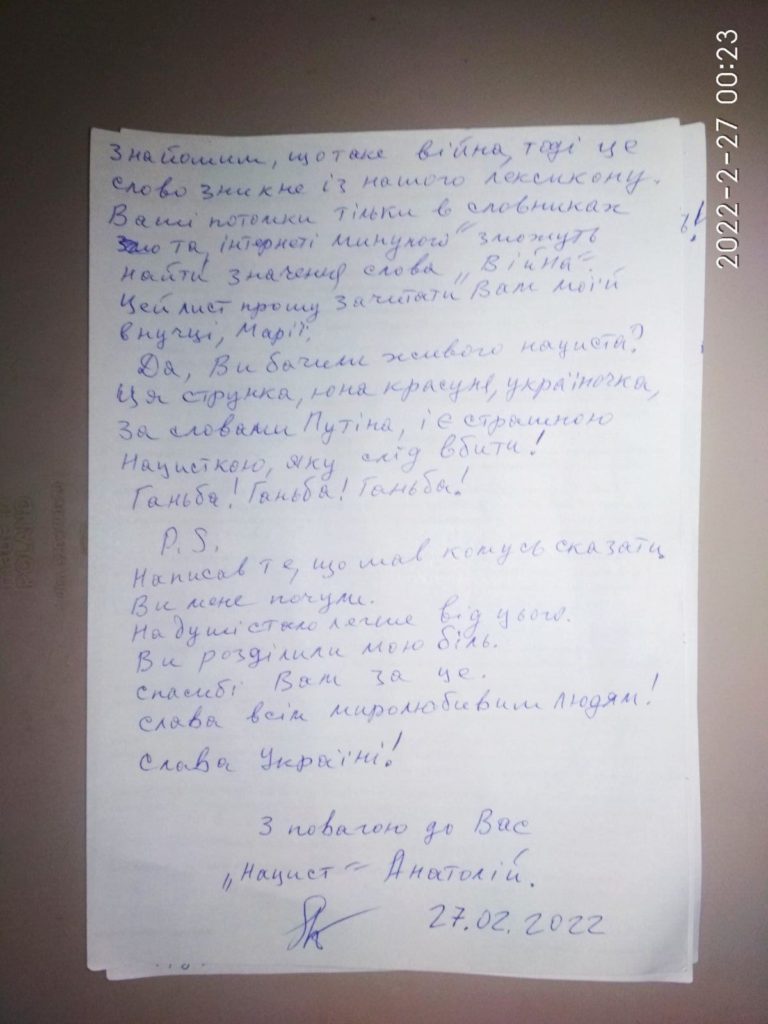 The letter is one of the many voices of innocent Ukrainians, people whose lives have been upturned with one decision, against their will and outside of their control. When I try to write a commentary about it, I'm lost for words. How to, in a few sentences, summarise my thoughts about all this, put in a greater context, share my opinion, write anything meaningful without taking attention away from the letter? How to say anything when it's not my place to speak.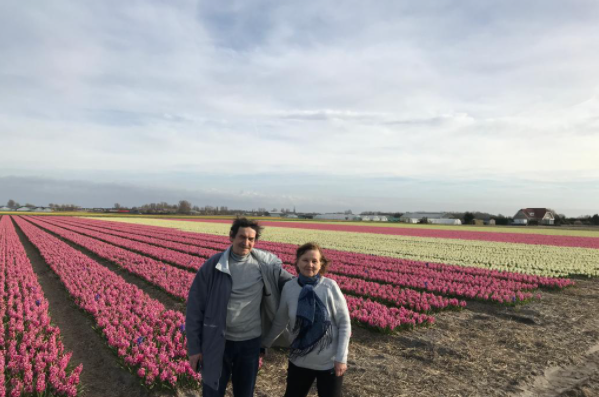 Because it's my job, as a writer at StudentenKrant, I will soon publish a more indepth opinion piece not so much on the war itself but on the world's response to it.
Below you can find links to verified information sources and fundraisers where you can help.
Donations:
News:
Stand with Ukraine Instagram: @withUkraine
Stand with Ukraine Telegram: http://t.me/with_ukraine
Direct Help: